Video presentation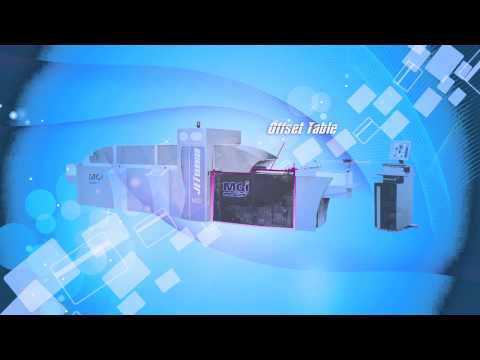 JETvarnish
MGI's revolutionary JETvarnish has changed the way the graphics industry views spot UV coating. Gone are the days of messy, expensive plates and screens – the JETvarnish provides a 100% digital solution that simplifies the spot UV process, allows for personalization and costs drastically less than traditional silk screen or offset methods.

Ideal for operations with offset and/or digital presses, the JETvarnish is the perfect offline solution for spot UV coating on runs from one to thousands, providing printers with true value-added services. Clients receive visually stunning pieces that allow them to differentiate themselves and with customization not available through any other spot UV coating method.


MGI's JETvarnish remains the only commercially available and patented digital inkjet spot UV coater with a worldwide install base. Clients include book/yearbook printers & publishers, finishing houses, large commercial shops and package printers.
Spot UV Coating

Printing Technology
MGI's Inkjet Drop-on-Demand technology:
Piezo heads mounted on a solid plate covering the entire width.
Single pass printing.
Minimum line width: 0.5 mm (1/144")
Production Speed
Up to 0.5 m / sec.
First page out in 16 sec. (no preheating or system latency)

Registration
Left and right guides allow for alignment to offset gripper marker on either side of the sheet, resulting in the most precise registration +/- 200 microns
Formats
Minimum:
21x30 cm / 8 x 11.8"

Maximum:
52x105 cm / 20 x 42"
Paper Thickness
Automatic height-adjustment print heads
From 135 gsm to 600 gsm/50 to 220lb

Substrates
Printing on matte or glossy laminated surfaces, layered paper, plastic, PVC and other coated materials
Printing Width
Minimum print width:
21 cm / 8.27"

Maximum print width:
51.5 cm / 20"

UV Coatings and Yields
Standard UV coating with variable level of gloss (satin, gloss, ultragloss)
Other coating also available in security formula (only seen under black light)
Black UV ink for offset overprinting (requires the second row of printheads)
New inks to be announced soon
Yields
Varnish is supplied in a recyclable 6 liter/1.59 gallon bag
"On-the-fly" bag replacement during printing
Capacity of ink circuit during operation - approximately 1 liter / 0.26 gallon
Feeder
Can handle a pile of sheets up to 60cm
23.6" high (approximately 4,000 sheets at 135gsm)
Paper Path
100% flat path
Vacuum feed system
Air feed system
Automatic double sheet detection
Stacker
Accomodate stacks up to 60cm/23.6" high (approximately 4,000 sheets at 135gsm)
Front End System
Dedicated PC (CPU + screen + keyboard/mouse)
Internet connection 10/100/1000 BT (RJ 45)
In-Line UV Dryer
"On-the-fly" drying via integrated UV lamps
Ozone free system. Coated sheets can be immediately finished or handled, no additional drying time required
Dry Air
A dry air compressor of 6 bar @ 15 l/mn (87 PSI @ 4 gal/mn) is provided as a standard MGI feature.
Maintenance and Technical Support
Daily maintenance completed in less than 10 minutes
Majority of procedures are automated
From cold start to production in less than 15 minutes
Remote troubleshooting & support via included video/web camera
(high speed internet connection required)
Operator Panel
Integrated user-friendly touch-screen LCD.
Electrical Requirements
400V, 20 kVA (3P+N+T/32A P17)
Dimensions (L x W x H) & Weight
7,11 x 1.36 x 1.82 Meter
23.33'x4.46'x5.97' Feet
1 meter / 3.3' clearance required on all 4 sides
Weight
1800 kg/3,968 lbs

Operating Environment
Temperature: 18 to 30°C / 64 to 86°F
Relative humidity: between 20 and 70%
(no condensation)
Eco Friendly
Eliminates resource waste (wasted electricity, paper and coating)
No plates (offset) or screens (screen printing)
No messy cleanup or preparation between jobs
Drastic reduction in amount of consumables and use of bulk packaging
Ozone free
Coating without volatile solvent
| | | |
| --- | --- | --- |
| Language | Title | Download Link |
| English | JETvarnish | |
| Français | JETvarnish | |
| German | Spot-Lackiermaschine JETvarnish | |
| Italian | JETvarnish | |
| Polish | JETvarnish | |
| Serbian | JETvarnish | |
Product Advantages
No Plates or Screens
The 100% digital JETvarnish eliminates the need for expensive plates, screens or setups. By removing these elements that are associated with traditional spot UV coating, the JETvarnish allows you to have a dramatically quicker and less expensive setup for your jobs - which translates into higher profitability.
No Minimum Runs
Traditional spot UV coating jobs usually carried an expensive setup charge and a 1,000 page minimum order to amortize the costs of plates, screens, setup and cleaning. Previously, there has never been a way to affordably spot coat 50 brochures or 250 flyers on demand. The 100% digital JETvarnish can "spot UV coat on demand" even the shortest of runs. You input your file, have a 5 sheet calibration phase, and presto, the job is ready to go. You can even present your customer with a fully spot coated proof, and it only cost you about a penny to make - a true value-added application.
Low Cost of Production
The JETvarnish allows you to dramatically lower your production cost, compared to traditional spot varnish techniques. You no longer have costly set up times, make ready, plates, screens, messy cleanups, substrate waste, calibrations, etc.

The JETvarnish will even tell you, down to the penny, exactly how much each job will cost you to print, a feat that is impossible on traditional spot UV coating methods.
Quality
With an average measure of 93 gloss units, the JETvarnish has an outstanding quality and finish that your customers will love. With the ability to do three different finishes in one pass (satin, gloss and super gloss), the JETvarnish can even do vignettes and gradations.
Ease of Use
The JETvarnish was designed with simplicity in mind. You do not need an experienced operator who has worked years behind an offset to run this unit, anyone with basic knowledge of pre-press can be up and running in just a few days.
Clean Technology
For people who have worked in the spot UV industry, the JETvarnish is a true breath of fresh air. No solvents, no ozone, self cleaning, all quite a difference from what they have grown accustomed to in the past.

Fast Turnarounds
Without the need for screens, plates or any cleanup between jobs, you can setup, calibrate and begin a production run in under 10 minutes time. It's "Spot On-Demand".
No Waste
A major advantage with the JETvarnish is that you will have virtually zero waste. You can calibrate your average job in as little as 5 sheets; a far cry from the 150 sheets typically required for offset calibration. Self-recycling coating allows maximum efficiency and with zero waste.
Self Cleaning
With the majority of cleaning procedures being automated on the JETvarnish, cleanup is as easy as pressing a single button. Even better is that there is no need to clean between jobs. Cleaning is done only once a day, meaning you can switch from one job to another without having to slow down your production.
Bring Profits In-House
Stop subcontracting out your spot UV jobs. The JETvarnish will help you increase your margins and lower turnaround times by bringing this profit source in-house. This way, not only will you be able to increase profits, but you also have full control of quality, efficiency and turnaround time.
Field Upgradeable Options
Our R&D department has made one thing clear: instead of developing a newer version of the JETvarnish, all of the future developments made for the JETvarnish will be in the form of field upgradeable options that can be integrated onto any existing or installed JETvarnish. Whether it is additional rows of inkjet heads for specialty type applications or printing black variable data for personalization, the JETvarnish is a machine that can grow along with your business.