Video presentation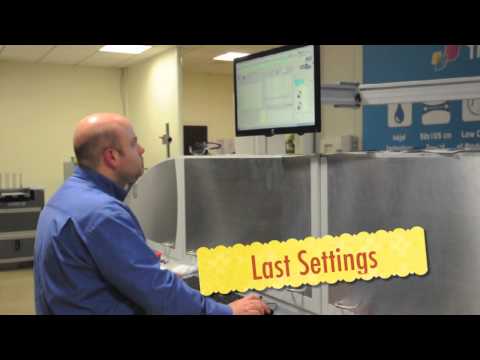 JETvarnish 3D
The award-winning JETvarnish 3D takes digital spot UV coating to a new dimension, featuring increased throughput for flat spot UV jobs and amazing 3D raised effects.

Ideal for operations with offset and/or digital presses up to 52x105 cm format, the JETvarnish 3D is the perfect solution for 3D or traditional flat spot UV coating on runs from one to thousands, providing printers with true value-added services. Gain new customers & profitable markets and your clients will receive visually stunning pieces that allow them to differentiate themselves and with customization not available through traditional and analog spot UV coating methods.

A pioneer and industry leader in spot UV coating, MGI first presented the JETvarnish at drupa 2008 and boasts the industry's largest install base. JETvarnish series customers hail from all Graphic Arts sectors such as offset commercial printers, digital printers, finishing houses, silk screen printers, specialty photo printers and book publishers. The most popular jobs include book covers, brochures, business & invitation cards and packaging.
Spot UV Coating

Printing Technology
MGI's inkjet UV
Drop-on-Demand (DoD) technology
Piezo heads mounted on a solid plate covering the entire sheet width
Single pass printing. Flexible & scalable printing architecture
Coating Thicknesses
Depending on your file and the paper used, the coating thickness can vary:
- from 3 microns (µm) same as a traditional flat spot UV coating
- up to 200µm for 3D raised effects and a tactile finish.
Production Speed
Up to 3,000 B2 sheet size per hour (flat spot UV coating)
First page out in 16 sec. (no preheating or system latency)
Registration
Left & right side lay guides on either side of the sheet. Overall registration of +/- 200 microns.

New revolutionary registration process using the latest MGI AIS scanner to fully automate the make-ready and a perfect sheet to sheet registration
Formats
Minimum:
21x30 cm / 8 x 11.8"

Maximum:
52x74 cm / 20x29" (regular size)
52x105 cm / 20x42" (extended size)
Paper Thickness
From 135 to 600 gsm
with motorized height-adjustment print heads

Substrates
Spot Coating and Hot Foiling can be applied directly on offset printouts with or without lamination, with or without aqueous/UV coatings. Also compatible with plastic, PVC, Polypropylene and other coated materials.

NEW - 3D spot UV coat directly onto digital prints (ie. MGI Meteor) with no lamination or coating required.
Printing Area
51.5x73.5 cm (standard)
51.5x104.5 cm (extended)
Coating and Special Inks
New UV coatings specially formulated - with or without 3D raised effects
Yields
The JETvarnish 3D now comes standard with 2 coating tanks and 2 coating circuits allowing a quick changeover between coatings. The first tank has a high capacity volume (18 liters / 4.7 US gal.). The second one is a recyclable 6 liters / 1.59 US gallon bag.
"On-the-fly" tank changeover possible during production without any interruption.
Capacity of ink circuit during operation - approximately 1 liter / 0.26 US gal.
Feeder
High capacity feeder able to handle a paper pile up to 60cm / 23.6" high
Approximately 4,000 sheets at 135 gsm
Paper Path
100% flat paper path.
Vacuum feed system.
Air feed system.
Automatic double sheet detection.
Stacker
High capacity stacker able to accomodate stacks up to 60cm/23.6" high
Approximately 4,000 sheets at 135 gsm.
Now includes a blowing system to cool down production.
Front End System
New large touch screen (68cm/27")
New fluid & intuitive interface

Dedicated PC (with mouse/keyboard)
Ethernet connection 10/100/1000 BT (RJ 45)
Built-in Application Software
- Comprehensive job queue management
- Predictive printing cost calculator (coating consumption)
- Dedicated image editor to do local and fast image editing prior to production
In-Line UV Dryer
"On-the-fly" drying & curing via integrated UV lamps
Spot Coated sheets can be immediately finished or handled, no additional drying time required
Dry Air
An on-site air system is necessary for the new sheet stacker blower (6 bar/87 PSI, 300 à 400 liters/min - 80/105 Gal/min.)
Maintenance and Technical Support
Daily maintenance completed in less than 10 minutes
Majority of procedures are automated
Remote troubleshooting & support via included web camera (high speed internet connection required)
Operator Panel
Integrated user-friendly touch-screen LCD.
Option(s)
-iFOIL option: a hot foil stamping module that connects inline with the JETvarnish 3D

-VDP option : Variable Data Printing system using a camera and preprinted barcodes
Electrical Requirements
30 kW (32 A) 400 Volts - 1 plug CEE/IP44 63A (3P+N+E)
3.7 kW (16 A) 220 Volts - 1 plug CEE/7 16A (2P+E)
2 kW (16 A) 220 Volts - 2 plugs CEE/7 16A (2P+E)
Dimensions (L x W x H) & Weight
7.67 x 2.24 x 2.16 meter (with all doors opened)
1 meter / 3.3' clearance required on all 4 sides

± 2,150 kg / ± 4,470 lbs
Operating Environment
Temperature: 18 to 30°C / 64 to 86°F
Relative humidity: between 30 and 50% (no condensation)
Eco Friendly
Eliminates resource waste (wasted electricity, paper and varnish)

No plates (offset) or screens (screen printing)

No messy cleanup or preparation between jobs

Drastic reduction in amount of consumables and use of bulk packaging
Product Advantages
Flat or 3D Spot Coating, you have the choice!
No need to choose between traditional flat spot coating OR 3D raised effects! With the JETvarnish 3D, you have the freedom to feature both effects on the same sheet or separately (from 3 to 200µm).

Expand your business and offer your customers a wider range of finishing services to help them differentiate their brands.
Amazing 3D raised effects
Produce spot UV coating jobs with 3D raised effects that bring your prints to life. Beautiful tactile effects enhance projects and create a new experience for the senses.

Determine your own selling price for a job than nobody can match, while your customers receive stunning prints that take their projects to a new level.


Increased productivity - up to 3,000 B2 sheets/hour
Break productivity records to gain a larger customer base with more profitable jobs. With a throughput up to 3,000 B2 sheet per hour, you can either multiply short runs (1-50 sheets) or produce medium and long runs - more than 20,000 sheets per day.
100% coverage of a B2 sheet
As a commercial printer or finisher, you need to ensure a full B2 coverage (B2=500x707mm) for your Spot UV jobs.

The JETvarnish 3D, as perfect complement to B2 offset presses, is able to exceed this area with a printable of 515x735mm.


Fine details or high coverage areas are no problem!
Whether you are spot UV coating ultra-fine details or large flat areas, the JETvarnish 3D is designed for all kinds of spot UV coating jobs. Don't limit yourself to either flat or 3D - your customers deserve the choice!
Anticipate your printing costs prior to production
The better you can anticipate your production costs, the more accurate your quote and your margins will be.

JETvarnish 3D has an embedded predictive cost calculator prior to production. You just need to upload the spot coating file and it will immediately display the volume of coating consumed - for 1 or for 1,000+ sheets
No Plates or Screens
The 100% digital JETvarnish 3D eliminates the need for expensive plates, screens or setups. By removing these elements associated with traditional spot UV coating, the JETvarnish 3D enables dramatically quicker and less expensive setup for your jobs - which translates into higher profitability.


A new 3D high gloss coating formula at 99% G.U.
Produce high gloss spot UV jobs that no other traditional analog technology can match. The JETvarnish 3D features a gloss level of 99% (G.U.)
Extended paper formats up to 52x105 cm
Some applications may require longer paper format than B2 - for example, book covers integrating multiple flaps. To accommodate this key need, the JETvarnish 3D is the solution to cover sheets up to 52x105 cm / 20 x 42" long. It is another unique feature.
Internet cannot compete
Thanks to the power of the printed document on paper, adding a 3D spot UV coating is bringing an unbeatable visual impact and tactile feeling that you cannot have on the Internet