Video presentation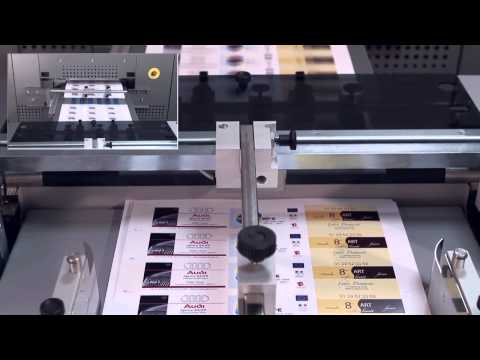 Meteor DP8700 XL
The most versatile digital press in the global graphics market, the Meteor DP8700 XL offers users the widest range of substrates available (paper, plastics & envelopes), the largest cut sheet size (up to 102 cm / 40" in production), laser-safe prints, no click charge and an economical total cost of operation, plus offset-comparable output quality.

The Meteor series of digital presses is becoming the solution of choice for graphics professionals in a wide range of industry segments, including commercial printers, plastic card manufacturers, in-plants, book printers, photo printers, governments and envelope printers, among others.

Digital Printing

Print Speed Monochrome and Color
Up to 4,260 A4/Letter pages/hour or 2,280 A3 pages/hour
Print Resolution
Superior output quality up to 3600 dpi
New predefined line screens, including 5 preset stochastic modes (random dot pattern FM).
20 traditional line screens ranging from 95 to 270 lpi


Formats
Min: 100 x 148 mm - 3.9x5.8''*
Max: 330 x 650 mm - 13x26'' standard **
or 330 x 1,020 mm - 13x40'' with option **

*from bypass
**max. paper weight 250 gsm

Substrates
PAPER:
Weights between 70 to 350 gsm / 20 lb bond up to 130 lb cover
Bristol, Matte Coated and Bright, C1S/C2S,Chromolux®/Kromekote, Vergé®, art papers, textured, carbonless, etc.

PLASTICS:
Thicknesses between 100 to 400 µ - 4mil up to 16mil
PVC (from 210 to 400 µ), polyester, polycarbonate, polyethylene, Lexan®, PET, Autotype, Vinyl, Teslin®, Yupo, Melinex®, canvas, etc.

ENVELOPES:
Envelopes both with or without windows, thicknesses of up to 400 µ / 16mil
Maximum Print Area
321x1011 mm / 12.6"x39.8"(with option)

Input Trays
3 trays
1,500 sheet total capacity (500 per tray)
Weights from 70 to 260 gsm / 20 lb bond to 120 lb bristol
All sizes included 140 x 182 mm to 330 x 487 mm/ 5.5x7.2'' to 13x19''
Ability to link trays.

Bypass
250 sheet capacity
Includes formats from 100 x 148 mm to
330 x 1,020 mm / 3.9 x 5.8'' to 13 x 40''
Envelopes supported from C6 to C4 included
High Capacity Pneumatic Loader
3,000 sheets maximum capacity
Supports paper from 150* to 350 gsm / 67 lb bristol or 100 lb txt to 130 lb cover
Supports Plastics from 100** to 400 microns / 4mil up to 16mil
Accepts all formats ranging from 100 x 220 mm to 330 x 1020 mm / 3.9 x 8.7" to 13 x 40''(with option).
Feeder module is thermoregulated for the moisture stabilization of substrates.

*100 gsm is achievable after MGI's change
**depending upon the material melting point
Offset Registration Table
Precise registration (± 0.2 mm L-R)
Comparable to offset, applies to all printed works, (front-back, page-page at ± 0.5 mm)
New feeder table with fully motorized and automatic side lay guide.
Auto-adjusts for format width and paper skew
Ultrasonic double sheet detection system

High Capacity Stacker
Top loading
Laser guided stack adjustment
Capacity of up to 6,000 sheets (80 gsm / 20 lb bond)
Optional envelope stacking table

Automatic Duplexing
Auto duplex up to 260 gsm / 120 lb bristol
From 3 trays, bypass and offset feeder
Min size: 100 x 148 mm / 3.9 x 5.9''
Max size: 330 x 487 mm / 13 x 19''

External Controller
Languages and datastreams supported:
Adobe PostScript Level 3, PPML 2.2 (PODi certified) and VPS (variable data management),
TIFF and PDF 1.7
JDF compliant
Print queue management utilities with on-demand reprinting
Auto trapping
Professional color management tools
Profile management: CMYK (Euroscale Fogra, SWOP) and RGB (sRGB, Adobe RGB)
ICC / ICM, (ProfileMaker, ColorMatch)
PANTONE certification with ''Spot-On''
Built-in automatic color calibration
Integrated automatic calibration and external calibration with Eye-One® spectrodensitometer
New feature - assign up to 2 different line screens
within the same print job:
-One line screen for pictures
-One different line screen for text/vector graphics

Command WorkStation
Separate PC with Intel Pentium Dual Core Processor E6700 (3.20 GHz) - 3072 MB RAM - 320 GB SATA hard disk - Windows 7 Professional (32 bit) - 19'' screen
Centralized job management
Flexible previews
Cohesive tool integration

Variable Data
100% compatible with most popular variable data management solutions (NEWLEAF & PReS PrintSoft, Seagull Scientific Bartender, Adobe InDesign, QuarkXPress,
PrintShop Mail ...) using the following languages:
PPML 2.2 (PODi certified)
FreeForm and FreeForm 2
Creo VPS

Intelligent Substrate Management
Unlimited customizable library of paper & synthetic substrates
Substrate specific values for optimized printing include inking transfer, engine temperature, Infrared preconditioning temperature
V.B.R.S (Vibration and Banding Reduction System) on heavy stock.
Touch screen interface

Option(s)
- Extended paper length up to 1020 mm
- EnvelopExpress Pro, an high capacity envelop feeder
- Fiery Impose software
Electrical Power
230 V VAC ± 10 % ; 50/60 Hz ± 3 %
12 kW maximum, 50 A
2x32 A plugs

Operating Environment
Required temperature: 15° to 30°C (59°F to 86°F)
Optimum between 18° to 23°C (64° to 73°F) - maximum variation of 10°C (50°F) per hour
Operating Humidity: 30% to 50% RH - optimal condition: 40%

Dimensions & Weight
(L x H x W): 502 x 192 x 143 cm / 198" x 76" x 56''
Weight: 1041 kg / 2,295 lbs

Eco-friendly
Prints are deinkable and therefore recyclable
Printing on recycled paper

Lower environmental footprint than other comparable digital presses
Lower power consumption, no additional HVAC or chiller, no exit exhaust
Emits no ozone or VOCs
Toner bottles are made of HDPE and are recyclable through standard programs (no special disposal needed)
| | | |
| --- | --- | --- |
| Language | Title | Download Link |
| English | MGI Meteor DP8700 XL (2013) | |
| French | MGI Meteor DP8700 XL (2013) | |
| German | MGI Meteor DP8700 XL | |
| Italian | MGI Meteor DP8700 XL | |
Product Advantages
Versatility
As the printer's margins are getting smaller by the day due to the competition slashing their selling prices, we saw an opportunity to offer the graphic arts professional the ability to compete on six different high margin market segments in addition where they could expand their product offering to increase their bottom line: Papers,Plastics/Synthetics, Envelopes, Super Format Printing, Laser-safe Letterhead/Envelopes, and the Offset Overprinting & Personalization.

Whether you are creating tri-fold brochures (650mm/26 inches), quad-fold documents (1020mm/40 inches), 4-color personalized envelopes, letterhead, PVC cards, or simply adding variable data to your already printed offset jobs, we allow you to bring in the maximum amount of applications to your customers and deliver them in high quality, 3600 DPI resolution. Bring differentiation in house, all for a very attractive total cost of ownership and production.
Stunning print quality
The Meteor DP8700 XL's stunning 3600 dpi/270 lpi print resolution pushes the boundaries of digital technology and allows you to produce brilliant prints of the highest quality.

With 25 regular and stochastic line screen choices, you have the flexibility to pick the ideal option for any job, be it photos, text or others. In addition, you can choose up to 2 different line screens per print job (1 for text, 1 for photos, etc), ensuring your entire document prints at optimum quality.
The widest range of substrates available
It's simple. The more substrates you can print on = the more applications you can offer. The more applications you can offer, the more profits you can generate. This is especially true when looking at high margin markets your Meteor digital press can open up for your business, such as personalized plastic card production, point of sales materials, advertising/direct mail, static cling, vinyl sticker production, Identification bracelets, photobooks, envelopes, signage and much more...

Super Format printing (1020 mm / 40 inches)
A format once reserved solely for the offset world, the Meteor series can print sheets up to 1020mm (40") in length - the ONLY sheetfed production digital press with this capability. So if your customer wants a short run of gate-folded brochures with 8 4/4 A4/letter pages on one sheet, they no longer need to print a minimum quantity or pay setup costs for a 72 x 105 offset press.

Print personalized banners, calendars, panoramic photographs, brochures, signage and more, all on-demand and in quantities as little as one.

Envelope printing
Envelope production can be an instant game changer for your business. Whether you are printing high quality 4C logos on stationary (supplementing an offset run), or printing variable data for direct mail applications, the Meteor series can bring in serious profits for your business. Go from the typical DL envelope all the way to the C4 envelope, with or without windows, all on demand.

Even more importantly, because MGI does not follow the click charge model, your cost of production is directly related to your toner coverage, which means your cost to produce envelopes will be incredibly low.
Precise registration
MGI addressed this issue by integrating an automated offset feeder table, which provides the most precise registration in the market today (up to +/-0.2mm page to page registration). We even integrated a light table onto the Meteor series for crop mark registration verification, thus taking what was once perceived as the Achilles Heel of digital printing and turning it into one of our strengths.

Standard offset media
You've been challenged by the cost of the special "digital" papers you were being forced to use. Thanks to our IR pre-conditioning system and our intelligent fuser management, you can print digitally on the same substrates that you are currently printing with your offset press today, meaning no separate "digital" stock in your warehouse - resulting in significant savings in your paper budget.

Laser-safe prints
MGI's toners are oil-free and silicone-free, which means that they are also laser-safe - the only production digital press with this capability. Laser-safe prints won't smudge or ghost when run through any standard desktop laser printer- so your customers can enjoy full color letterhead and envelopes, even in the shortest runs.

No click charge
We listened when printers worldwide told us they thought that the click charges were unfair, and we agree 100%. We operate on a model that is similar to that of an offset press, allowing for tremendous production cost savings and no stressful monthly minimums or overage charges. You pay for what you print, it's that simple.

Easy to use
No rocket scientist required.

While it should be emphasized that the Meteor series are not push button presses, your operators will quickly understand how the press works, both inside and out, as it is relatively easy to use. Whether your operator comes from an offset press background or a pre-press background, MGI's team of engineers will teach your operator everything he or she needs to know about how to manipulate colors, substrates, formats and more.

Support
Never be down without support again with MGI's technical support system.

MGI's remote diagnostic tools in conjunction with a webcam (standard with all Meteor models) allow MGI certified technicians to remotely support your press and walk your operator through most maintenance procedures. In addition, every Meteor digital press comes with a interactive video that shows, step by step, how to perform from the easiest to the most difficult of procedures. If you need a site visit, MGI's worldwide network of certified technicians are only a phone call away.

Product Awards
Must See 'em, GRAPH EXPO 2011

Products selected as Must See 'ems were chosen from more than 1,800 individual products shown at GRAPH EXPO 2011 by almost 475 exhibitors. A panel of several leading industry consultants and trade magazine editors selected the winners, which represent technologies that will impact virtually all types of printers. MGI has earned 2 Must See 'em.