Video presentation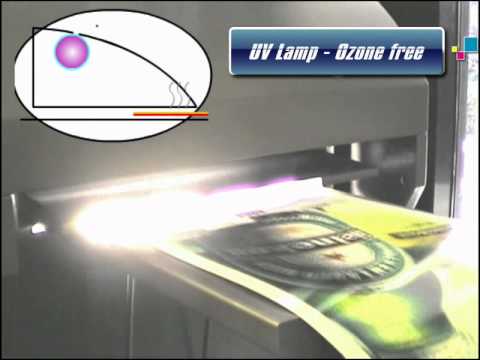 UVarnish
MGI Digital Graphic Technology is proud to present the offline UVarnish to complement its line of 4-Color digital presses and Finishing solutions for Paper and Plastic substrates.

The first "Push Button" UV coater available in the market, the UVarnish is both user-friendly and has the smallest foot print in it's class, and was designed to compliment both digital and offset printed paper or plastic substrates (Paper coated and sealed plastic surfaces like PVC,PET etc..) without requiring a fulltime operator or a large amount of floor space.

The UVarnish is also the first UV coater system to integrate an "Automated Recovery System" that ensures jobs, especially those with variable data, are not at risk. Environmentally friendly, the UVarnish also uses a UV curing technology that is ozone free.

Depending on the type of substrates and applications, various varnish finishes are available :
Matte, Glossy and Pre lamination varnish for plastic hot platen lamination

Flood UV Coating

Substrates
Papers: Glossy or Matte Coated
Plastics: PVC & PET
Thickness
From 150 gsm / 55 Lbs Cover
up to 500 gsm / 180 Lbs Cover
Input/Output
- Large Capacity Automatic Feeder
- Double feed detection system
- Air suction conveyor
- Standard Jogging Table
- Optional Output stacker
Formats
From 14 x 29 cm / 5.5" x 11.4"
up to 36 x 52* cm / 14.2" x 20.5"
*extended length on request.
Production Speed
Up to 2,400 sheets 36 x 52 cm or 14.2" x 20.5" per hour
Available Coatings
Glossy, Premium, Over-print & Matte
UV Lamp
4 kW mercury UV lamp
Ozone Free
Up to 1,500 hour lifetime
IR Lamp
2 kW infrared lamps
5,000 to 8,000 hour lifetime
Electrical Requirements
400 V 3P+N+E, 50/60Hz, 18 kW
Weight
±360 kg
792 lbs
Dimensions
(L x H x W)
2.74 x 1.35 x 0.84 m
107.8" x 33.3" x 53.1"
Product Advantages
Quality
MGI's UVarnish delivers a smooth, consistent coating on both digitally and offset printed substrates. No more orange peel or scratching - the integrated UV and IR lamps ensure a premium finish that's immediately dry and ready for finishing.
Added Value
Create instant added value to all your documents. At an a cost of less than a few cents per sheet, exponentially multiply the value of each sheet.

The UVarnish can handle a large number of applications. Whether you want to protect your documents or give them immediate photolike quality value, the UVarnish is ideal for handling:
Brochures, book covers, photos and photo books, postcards, posters, POP, plastic cards, calendars, mailing, etc. ...
Ease of Use
A true "push-button" UV coater, the UVarnish is truly user-friendly and easily integrates into your workflow.
Safety
The UVarnish features ozone-free operation and a double-sheet detection sensor, preventing costly double feeds, plus sensors along the paper path alert the operator to any misfeeds.
Footprint
MGI's UVarnish has one of the smallest footprints among production flood UV coaters. The integrated IR lamp dries prints on-the-fly, which eliminates the need for long drying conveyors.
Offset or Digital Print
Digital or offset, the UVarnish can coat it all! With standard sheet sizes up to 36 x 52 cm / 14 x 20" (and extended feed options up to 1020 mm / 40 inches in length, the UVarnish is the perfect complement to your workflow.