Video presentation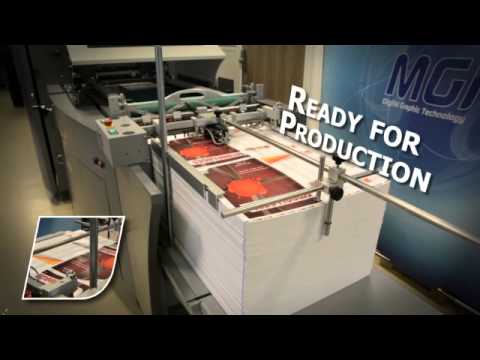 iFOIL
Open the doors to digital embossing and hot foil stamping with your JETvarnish 3D and iFOIL solution.

Through a revolutionary digital process, the iFOIL eliminates the need for films, dies and makeready, allowing you to produce hot foil stamping and embossing jobs from one to thousands of sheets with both very high profitability and ease of use.
From magazine covers, books, brochures, labels, to invitations and packaging, offer new services and exceptional benefits to your customers.

Spectacular and unique effects are now available within a 100% digital process:
- embossing and debossing
- multiple colored foils applied in one pass (up to 3 colors)
- variable data printing (VDP) on Hot Foil Stamping and/or Spot UV Coating (text or image)
- foil on foil
- exclusive capability to foil and emboss on plastic including on Polypropylene (PP)

Exploiting both visual and tactile excitement that the JETvarnish 3D and iFOIL brings, not only will you now be able to finally bring Hot Foil Stamping in house, but you will be able to do it with virtually no set up and high speeds but also the possibility to offer a new never before seen finish; the personalization of embossed hot foil.
Easy to use, iFOIL works in-line with the JETvarnish 3D digital spot UV coater. A software suite allows you to easily understand and modify layouts, with sizes ranging from A4 format to 52x120cm and on paper substrates ranging from 150 to 600 microns. iFOIL uses standard market foils.

It is possible to make hot stamping with iFOIL from printing done on offset and digital presses including Meteor Digital Press Series.
Digital Embossing and Hot Foil Stamping

Production Speed
Up to 1700* B2 sheet size per hour (or 25m/min)

* speed will vary according to printing parameter used
Formats
Minimum :
21 x 30 cm / 8 x 11.8"

Maximum :
52 x 105 cm / 20 x 42"
Substrate Thickness
Minimum:
150 gsm and not less than 150 microns/6 mil before printing & eventually lamination

Maximum:
600 gsm and not less than 700 microns/24 mil before printing & lamination
Substrates
Foil finishing on most matte or glossy laminated surfaces, with ou without aqueous coating, layered paper, plastic, PVC and other coated materials.

* confirm substrate/toner/metallic film compatibility with MGI
Films
Using most* of the hot foil available on the market. Optimization system of the film consumption.


* confirm substrate/toner/metallic film compatibility with MGI
Rolls
Minimum width of 10 cm.
Up to 3 film rolls simultaneously.
Roll diameter : max. 30 cm and approximately 2,000 meters of film.
2 cores available : 1 and 3 inches
Hot Foil Stamping
On a size 52 x 74 cm, hot foil stamping surface can not exceed 51.5 x 68 cm.
Embossing
From 6 up to 200* microns in thickness.
The surface of the metallized film may be covered with a layer of varnish or another metallized film (within 2 passes)

* JETvarnish 3D twin option required
Compatibility
Inline module that connects to all JETvarnish 3D.
Dry Air
6 bar / 87 PSI
from 150 to 200 litres/hour
Air compressor not provided
Dimensions & Weight
2,44 x 1,60 x 1,52 meters (L x W x H)
± 850 kg/ 1,873 lbs
Electrical Requirements
20 kW (32A) at 400 volts - 50/60 Hz - 1 plug CEE/IP44 32A (3P+N+E)