Video presentation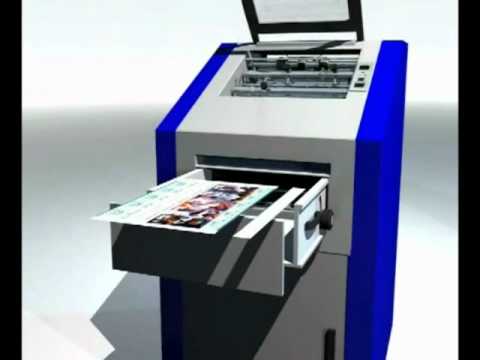 Meteor DP40 Pro
The Meteor DP40 Pro is MGI's 9th generation of professional digital presses that raises the bar for productivity, quality, versatility and profitability for the graphics industry.

The use of a wide range of paper and plastic substrates to offer your customers new application opportunities that translate to higher sales and profitability. Leaflets, brochures, advertising documents, business cards, stationery, plastic cards, point of sales material, and personalized envelopes, just to name a few.

You no longer sell simple color printing but sophisticated documents with full Variable Data and personalization on the widest range of substrates.

Digital Printing

Print Speed Monochrome and Color
Paper :
2100 pages A4 - Letter p/hour
1050 pages 12.25" X 18"

Plastic :
Up to 20,000 PVC CR-80 cards p/hour (21 up)
Print Resolution
200 LPI
1800 DPI
Formats
Min Format:
139.7 x 176 mm, (5.5" x 6.9")

Max Format:
320 x 457 mm (12.25" x 18")
Substrates
PAPER:
Wide range of paper substrates from 60 Gsm up to 300 Gsm - 18 Lb. Bond up to 170 Lb. Index - 110 Lb Cover (Bristol, Matte, Coated, Kromcoat®, Vergé®, Art, Bond, Adhesive labels...)

PLASTICS: From 210 Microns to 320 Microns
PVC (Coated or Uncoated), Polyester, Polycarbonate,
Lexan®, P.E.T., Vinyl, Synthetic Papers (Teslin®,
Melinex®, Artisyn® ...)
Input Trays
Large-Capacity Loader
Up to 300 Gsm-170 Lb Index-110 lb Cover.
Air Feed System.
Capacity: up to 2400 sheets.

Input Tray No. 1
From 70 Gsm up to 260 Gsm (18Lb. Bond to 96 lb Cover).
Maximum capacity 500 sheets.
Accepts formats from 90 x 140 mm up to 311 x 457 mm A4, Letter, Legal, 8"1/2x14", Executive, 8"x10",
11"x17", 12"1/2x18", A3 Wide+

Input Tray No. 2
From 70 Gsm up to 260 Gsm (18Lb. Bond to 96 lb Cover).
Maximum capacity 500 sheets.
Accepts formats from standard A5 up to A3, and from 8"1/2x11" up to 11"x17".

Input Tray No. 3
From 70 Gsm up to 260 Gsm (18Lb. Bond to 96 lb Cover). Maximum capacity 2500 A4 sheets.
Offset Registration Table
High adjustment precision (± 0.2 mm)
Ultrasound double feed detection system
Delivery Stream
Extraction of printed sheets via micro-conveyor belt
Jogging table receives printing documents
Automatic Duplexing
Min Format: 139.7 x 176 mm, (5.5" x 6.9")
Max Format: 320 x 457 mm (12.25" x 18")
From 70 up to 150 Gsm plain mod.
From 151 up to 200 Gsm thick mod 2.
External Controller
RIP Fiery :
Color Management :
Complete CMYK & RVB profile management.
ICC/ICM, SWOP, Euroscale Profile
PANTONE Certified, "SPOT ON".
Integrated Automatic Calibration and External calibration with DTP41 spectrodensitometer (optional).
> Print queue management utilities.
On-Demand re-printing. Management of printed
jobs and jobs to be printed.

Paper & Plastic Pilot: Automatic calibration of settings depending on the type of substrate
(Paper or Plastic) and thickness.
PostScript 3, PCL6c
Driver
Driver PostScript Level 3
For PC for Windows 98, Me, NT, XP, 2000 and PPD
For Mac OS 9.x OS X

Open Architecture - Mac/PC Compatible
All DTP CMYK or RGB applications:
X-Press, Illustrator, PhotoShop, Corel Draw, etc…
All GDI RGB applications: Microsoft Word, Excel, Adobe Acrobat, etc…
Option(s)
Scanner:
Resolution: 2400 DPI.
Speed : Up to 38 ppm A4/Min

Electrical Power
220/240 V model: 220/240 VAC ± 10%; 50/60 Hz ± 3%,
Consumption : 5000 W maximum, 24 Amps
Regulation and Safety Standards
UL, cUL, FCC-B, DOC, VCCI, EC Marking, C-Tick, CDRH, GOST
Operating Environment
Required operating environment:
10° to 30° C (50°F to 86°F) max variation to 10°C per hour

Relative Humidity level during operation:
30% to 60% RH

Dimensions & Weight
Footprint (with feedboard):
3000 mm x 1290 mm x 1000 mm (W x H x D)
118.11" x 50.8" x 39.4" (W x H x D)

Weight:
+/- 250 Kg (555 lbs)
| | | |
| --- | --- | --- |
| Language | Title | Download Link |
| English | Meteor DP40 Pro | |
| Français | Meteor DP40 Pro | |
| Chinese | Meteor DP40 Pro | |
| Polish | Meteor DP40 Pro | |
| Greek | Meteor DP40 Pro | |
| Serbian | Meteor DP40 Pro | |
Product Advantages
Versatility
As the everyday printer's margins are getting smaller by the day due to the competition slashing their selling prices, we saw an opportunity to offer the graphic arts professional the ability to compete on six different high margin market segments in addition where they could expand their product offering to increase their bottom line:
Paper, Plastics/Synthetics, Envelopes, Laser-safe Stationary, and the Personalization of Pre-printed Offset Sheets.

Whether you are creating tri-fold brochures, 4-color personalized envelopes, letterhead, PVC cards, or simply adding variable data to your already printed offset jobs, we allow you to bring in the maximum amount of applications to your customers and deliver them in high quality, 1800 DPI resolution. Bring differentiation in house, all for a very attractive total cost of ownership and production.
Substrates
It's simple. The more substrates you can print on = the more applications you can offer. The more applications you can offer, the more profit you can generate. This is especially true when looking at high margin niche markets your Meteor DP60 can open up for your business, such as personalized plastic card production, point of sales materials, advertising/direct mail, static cling, vinyl sticker production, Identification bracelets, photobooks, envelopes, signage and much more...
Envelopes
Envelope production can be an instant game changer for your business. Whether you are printing high quality 4C logos on stationary (supplementing an offset run), or printing variable data for direct mail applications, the Meteor DP40 Pro can bring in serious profits for your business. Go from the typical DL #10 envelope all the way to the C4/9 x 12" envelope, with or without windows, all on demand.
No Click Charges
We listened when printers worldwide told us they thought that the click charges were unfair, and we agree 100%. We operate on a model that is similar to that of an offset press, allowing for tremendous production cost savings and no stressful monthly minimums or overage charges. You pay for what your print, it's that simple.
Precise Registration
It's no secret that it is difficult to achieve accurate registration on digital presses.
We solved this issue by integrating a true offset air fed table to provide the most precise registration in the market today, up to +/-0.2mm page to page registration.
Laser-safe Prints
MGI's toners are oil-free and silicone-free, which means that they are also laser-safe - the only production digital press with this capability. Laser-safe prints won't smudge or ghost when run through any standard desktop laser printer- so your customers can enjoy full-color letterhead and envelopes, even in short runs.
Standard Offset Media
You've been challenged by the cost of the special "digital" papers you were being forced to use. Thanks to our IR pre-conditioning system and our intelligent fuser management, you can print digitally on the same substrates that you are currently printing with your offset press today, meaning no separate "digital" stock in your warehouse - resulting in significant savings in your paper budget.
Ease of Use
No rocket scientist required.

While it should be emphasized that the Meteor DP40 Pro is not a push button press, your operators will quickly understand how the press works, both inside and out, as it is relatively easy to use. Whether your operator comes from an offset press background or a pre-press background, MGI's team of engineers will teach your operator everything he or she needs to know about how to manipulate colors, substrates, formats and more.
Support
Never be down without support again thank to MGI's support system. Should your press need maintenance, MGI certified technicians can remotely support your press and walk your operator through many common issues. In addition, should the maintenance not be possible via the remote support center, an MGI certified technician will visit your factory to perform the maintenance in person.