Video presentation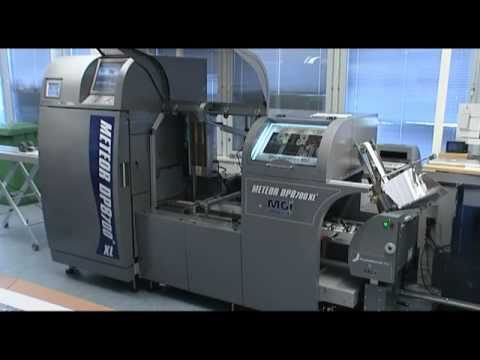 EnvelopExpress Pro
EnvelopExpress Pro is an optional envelope feeder for the Meteor DP8700 XL/XL+, designed for high volume production with user-friendly operation and installation. All envelope formats from DL to C5 are supported.
C4 enveloppes are supported through the standard features of the Meteor DP8700 XL/XL+. Print up to 3,000* envelopes per hour on thicknesses ranging from from 100 to 400 microns. You can reload it on-the-fly without interrupting the production.



*DL envelopes at 80 gsm

Envelope Production System

Format
Envelope formats from DL to C5 - including 6x9''and #10
Speed
EnvelopExpress Pro allows for continuous delivery of up to 500 envelopes at at time, maximizing output volume without interruption of the production cycle of up to 3,000 envelopes per hour.

*using DL envelope at 80 gsm
Capacity
EnvelopExpress Pro allows for continuous delivery of up to 400 envelopes at at time, maximizing output volume without interruption of the production cycle.
Feed
The air feed system of the EnvelopExpress Pro integrates seamlessly with the offset feeder table on the Meteor DP8700 XL/XL+, ensuring maximum production and precise registration.
Compatible With
The EnvelopExpress Pro is designed exclusively for the Meteor DP8700 XL/XL+.
Option
To maximize production, MGI offers an optional envelope conveyor that attaches to the Meteor DP8700 XL/XL+ output delivery belt. This attachment receives printed envelopes in a flat layer, allowing for optimal stacking and packaging. The envelope conveyor features a variable speed belt.
Electrical Requirements
230 V/50 Hz, electrical protection 0.4 A
1 plug 16A
Dimensions
128 x 47 x 114 cm (h x w x L)
50.39" x 18.50" x 44.88"
Weight
70 kg/154 lbs
Product Advantages
The envelope - much more than a carrier
Envelopes do more than carry letters and inserts.
When efficiently designed & printed, the outer envelope can help improve deliverability, increase open rates, promote offers and communicate a positive brand image. EnvelopExpress Pro helps you printing efficient and targeted envelopes.

High productivity
EnvelopeExpress Pro is feeding the Meteor press at the speed up to 3,000 envelopes per hour with or without variable data printing. You can reload it on-the-fly without interrupting your printing production.
Easy to install, easy to use