Video presentation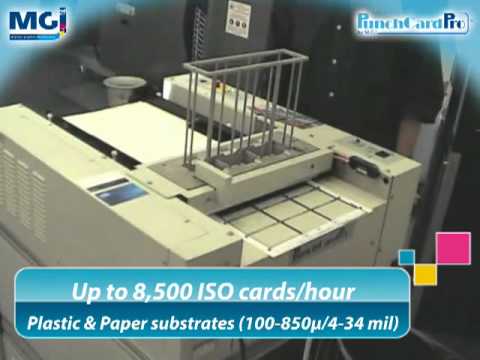 PunchCard Pro
A semi-automatic card punching unit capable of punching 6,000 ISO CR-80 plastic cards per hour (with rounded corners).

Able to die cut sheet in layouts ranging from either 21 or 24 cards up in an ISO format on thicknesses of up to 850 µ / 34 mils.

The die cutting of cards is ensured by the reading of crop marks using integrated fiber optic sensors. The cards are automatically retrieved in the triple chimney stacker.
Card Punching

Sheet sizes
Width :
Minimum : 300 mm - Maximum : 330 mm

Length :
Minimum : 190 mm

13" x 19" sheet size or 330 x 482 mm is recommended to be fully compatible with the PressCard Pro process.
Card Thickness
PVC, Polyester, Plastic & Paper :From 300 up to 850 microns
Die Cutting Format
ISO Format:
85,5 x 54 mm, or
3.36" x 2.12"
Collection Stacker for Output
3 chimney stacker's with a capacity of 300 cards each (760µ). (Total Capacity 900)
Lifetime
± 20 million PVC ISO CR-80 cards @ 850 µ (or 7 million synthetic paper cards) before cutting tool needs to be resharpened.
Speed
Up to 6,000 CR-80 Cards/Hour
Power Supply
110 V/60Hz - 220 V/50 Htz
Electrical consumption: 1.8 kW
Weight
± 225 Kg or 485 lbs
Dimensions
L x W x H:
720 mm x 790 mm x 1300 mm
Product Advantages
Cost
Low cost of aquisition compared to other card punching equipment.
Ease of Use
Remarkably easy to use semi automatic feeding.
Added Value
Thanks to its round edge cutting, the PunchCard Pro produces a simple and elegant products with high added value. You can easily offer small runs of high-end cards with rounded corners to all your customers.
Footprint
The PunchCard Pro is an ultra-compact unit, able to fit inside of 0.6 m² working space.
Product Applications
Business Cards

Produce beautiful 4-color business cards (in the shortest of runs), and finish spot UV coating or hot foil stamping and embossing...MGI has a solution for you.
Plastic Cards

MGI's complete line of solutions for plastic card manufacturing allows an economical method of producing a wide range of plastic card applications, including membership/loyalty, gift, ID. access, RFID and many more. Stop outsourcing and keep your profits in-house!