Video presentation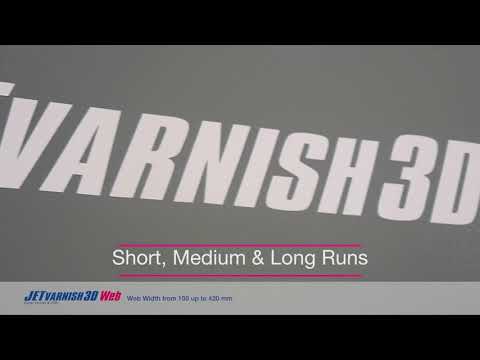 JETvarnish 3D Web
The JETvarnish 3D Web delivers exceptional print enhancement value to the label market. The JETvarnish 3D Web allows label printers to go digital for Spot UV Coating and Embossed Hot Foiling without dies, screens or expensive tooling on narrow webs up to 420 mm/16.53''.

The JETvarnish 3D Web is designed for both 2D (flat)/3D Embossed Spot Coating over flexo, offset or digital web-fed printed output. Hot Foiling can be added with glamorous metallic and colored foils to embellish label designs. A digitally finished label by the MGI solution provides eye-catching sensory enhancements and dramatic tactile sensations that brand owners are looking for to distinguish their products in the marketplace.

The JETvarnish 3D Web also has an inline flexo station that applies a pre-coating treatment to label substrates not originally planned for inkjet processing. This elegant, flexible solution offers a great compatibility advantage to label printers who use a diverse range of printing technology (digital, offset or flexo).

The JETvarnish 3D Web gives extra added-value and sensory dimensional textures to printed label output. The 100% digital technology provides quick prototyping, short run customization flexibility and the ability to use variable data for personalizing text & graphics on every piece produced.